Fall Conference Highlights Maintenance Management Systems and Drones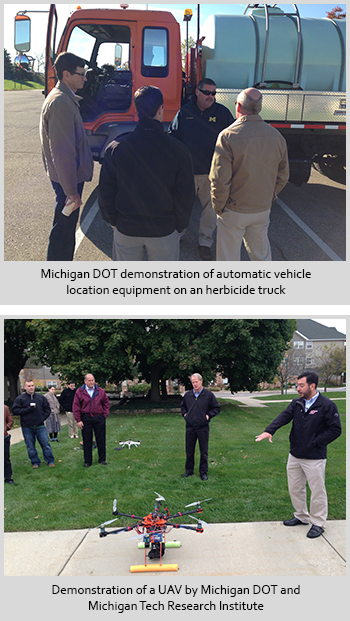 More than 30 No Boundaries members and invited guests met in Ann Arbor, Michigan from October 25 to 27 to learn about maintenance management innovations. The demonstrations, presentations, and Q-and-A opportunities fostered face-to-face tech transfer among practitioners in attendance.

Conference highlights included:

Presentations by seven state DOTs on their successes and lessons learned in using maintenance management systems.
A live demonstration of unmanned aerial systems (drones) being studied and used by Michigan DOT and Michigan Tech Research Institute for maintenance applications.
An equipment demonstration and presentation by Michigan DOT on its use of automatic vehicle locator systems on both snowplow trucks and spray herbicide trucks.
A tour of the Mcity automated and connected vehicle testing facility at the University of Michigan.
Videos of selected presentations and demonstrations are available on the No Boundaries website.

No Boundaries members also began scoping focus areas and technology transfer activities for 2017. The group is planning face-to-face meetings, webinars, videos and newsletters on key maintenance topics, such as:
Maintenance training opportunities and best practices
State DOT innovation rodeos and showcases
Automated data collection and application
Performance based management
To learn more about how your agency can join No Boundaries and participate in upcoming events, contact Brian Hirt, CTC & Associates, at 402-770-9067 for more information.