New Members Are Welcome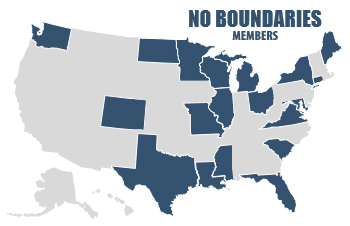 No Boundaries membership now stands at 19 state DOTs across the United States: Colorado, Connecticut, Florida, Illinois, Louisiana, Maine, Maryland, Michigan, Minnesota, Mississippi, Missouri, New York State, North Dakota, Ohio, South Carolina, Texas, Virginia, Washington State, and Wisconsin.

As the program continues activities into 2019, No Boundaries extends an open invitation to new members.

No Boundaries is Transportation Pooled Fund project #TPF-5(330). State DOT commitments to the project can be made using 100% federal funds. Contact Brian Hirt, CTC & Associates, at 402-770-9067 for more information.