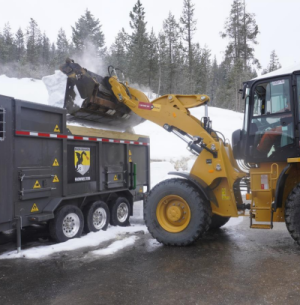 Snow that accumulates in an agency's maintenance yard can make it harder for vehicles to maneuver and reduces efficiency and productivity.
The California Department of Transportation (Caltrans) typically removes snow from its maintenance facilities by loading it onto trucks and hauling it offsite, which can add up to significant time, labor and economic costs for the agency throughout a winter season.
To investigate the potential savings of an alternative approach, Caltrans evaluated a commercially available snow melter and calculated the costs and benefits compared with traditional snow-removal methods.
Read the final report: Evaluation of a Portable Snow Melter for Use in Caltrans Maintenance Yards, July 2023
Image source: Caltrans