Columbus, Ohio
August 29-31, 2017
Agenda | Photos | Budget | Minutes
Highlights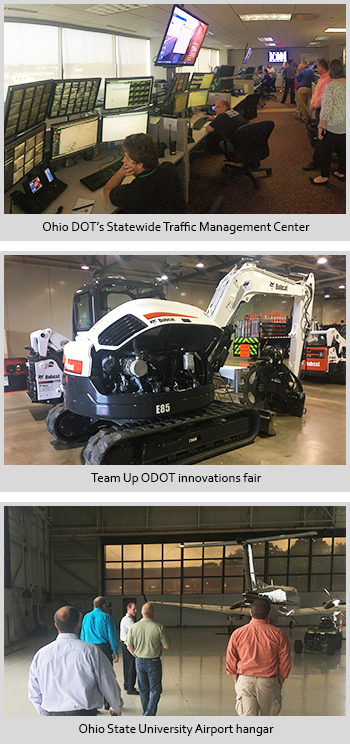 More than 30 No Boundaries members and invited guests met in Columbus, Ohio from August 29 to 31 to learn about maintenance management innovations. New members and guest agencies who participated in person or by webinar included Minnesota DOT, Tennessee DOT, Maryland DOT, and Manitoba Infrastructure.
State agency presentations included initiatives on innovation fairs and award programs, Transportation Systems Management and Operations (TSMO) plans, and maintenance asset management systems efforts. Links to all available presentations can be found below.
In addition, local partners in the Ohio Pollinator Habitat Initiative gave a joint presentation on their efforts, with perspectives shared by Ohio DOT, The U.S. Department of Fish & Wildlife, and Pheasants Forever.
Representatives from the Mid-Ohio Regional Planning Commission shared information on the Midwest Connect Hyperloop corridor, at the time a semifinalist for the Hyperloop One Global Challenge for a proposed Hyperloop network. Since the time of the meeting, Midwest Connect Hyperloop was named one of ten global winners. Congratulations!
The meeting also featured several maintenance-related field trips in the greater Columbus area.
Time on the floor at Ohio DOT's "Team Up ODOT" innovations fair
A walking tour of Ohio DOT's aircraft hangar for the State Highway Patrol and Department of Natural Resources, located at Ohio State University airport
A driving tour of the Transportation Research Center, Inc., the largest independent vehicle test facility and proving grounds in the United States
A field visit to Ohio State University's Gwynne Conservation and Research Center, part of the Ohio Pollinator Habitat Initiative
Ohio DOT's Statewide Traffic Management Center located at the central office
Business Meeting
During the No Boundaries business meeting, members continued scoping activities for the coming year. During this meeting, members also elected the group's first leadership team:
Chair — Jay Wells, Washington State DOT
Vice Chair — Doug Gruver, Ohio DOT
The next face-to-face meeting is currently being planned for spring 2018 on the West Coast.
Photos
No Boundaries has launched a Flickr page. High resolution meeting photos are available there.
Presentations and Links
Member agency overviews and updates
Manitoba presentation (Manitoba remote salt silo – photo 1, photo 2, photo 3)
Maryland presentation
Minnesota presentation
Missouri presentation
Recognizing innovation
Washington State DOT innovations website
Highway maintenance management systems and asset management
Michigan presentation
Virginia presentation (part 1, part 2)
Landscaping specifications
Minnesota presentation (2018 specification; inspection manual)
Transportation Systems Management and Operations (TSMO)
Michigan presentation
Ohio presentation
Tennessee presentation
Pollinator Habitats
Ohio presentation
Illinois monarch butterfly program – photo