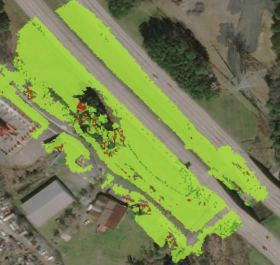 For state transportation agencies that rely on contractors to mow and landscape highway roadsides, identifying and prioritizing workloads – and evaluating performance after a job is done – are critical to keeping these green spaces healthy and functional. However, visual inspections can prove challenging and labor-intensive as these areas are often large, steep and difficult to access.
To simplify and automate the process of conducting highway roadside assessments, the Georgia Department of Transportation initiated a research project to evaluate the use of camera-equipped drones for monitoring and verifying maintenance work. Applying GIS data and newly developed image processing techniques, researchers were able to successfully differentiate between mowed and unmowed areas and determine the condition of the vegetation remotely.
Read the final report: Development of Drone-Assisted Highway Mowing Operations Planning, Monitoring, and Verification Capabilities, May 2022.
Image source: Georgia Department of Transportation