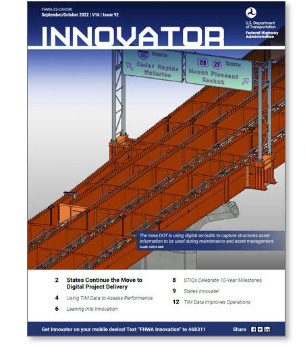 Several No Boundaries member states are featured in the September/October 2022 issue of Innovator, the bimonthly newsletter of the Federal Highway Administration (FHWA).
South Carolina and Colorado DOTs are working to advance how digital as-built data are collected, managed and applied to ongoing maintenance and operations. South Carolina DOT's online database contains more than 2.5 million plan sheets dating back nearly 100 years, and Colorado DOT's program has expanded to include data on utilities in the right of way.
Virginia DOT was lauded for its use of Traffic Incident Management data to analyze and improve incident response times and evaluate how road project affect operations, and Michigan's State Transportation Innovation Council (STIC) was noted as being the first in the country to sign a charter 10 years ago.
In other innovation news, a planning and environmental linkages study earned the Idaho DOT a 2022 Environmental Excellence Award from the FHWA, and Maine DOT was recognized for using a variety of innovative tools and techniques to construct and increase public awareness of a complicated bridge project. In addition, Ohio DOT applied smarter work zone technology to an urban area to reduce traffic congestion and potential hazards, Mississippi DOT has increasingly employed restricted crossing U-turns, or J-turns, to make highway intersections safer, and Missouri DOT has used concrete overlays to complete road paving projects quickly and safely.
Sign up to get the next issue of Innovator delivered to your inbox.
Image source: FHWA