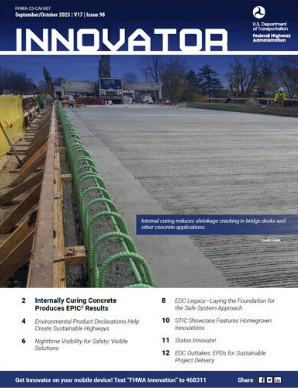 The September/October 2023 issue of Innovator, the bimonthly newsletter of the Federal Highway Administration (FHWA), recognized the efforts of a number of No Boundaries member states.
New York State DOT has been working for more than a decade with internally cured concrete and has a specification for its use on all of the state's multi-span bridge decks. A 2015 performance review revealed that the state's bridges that used the technology have 70% less cracking than those that did not.
And in an effort to reduce their greenhouse emissions, both California and Minnesota DOTs are implementing policies that require suppliers of construction materials – such as cement, concrete, asphalt, and steel – to provide environmental product declarations (EPDs), which can help agencies make informed purchasing decisions by listing the amount of embodied carbon that is contained in the materials. Colorado DOT is even taking EPDs a step further by using them to monitor and limit the agency's contributions to global warming.
Sign up to get the next issue of Innovator delivered to your inbox.