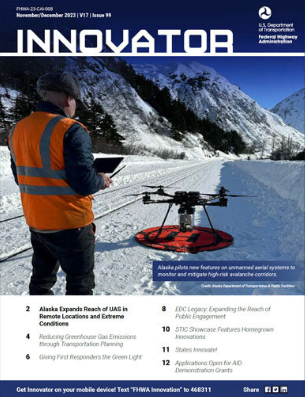 The November/December 2023 issue of Innovator, the bimonthly newsletter of the Federal Highway Administration (FHWA), recognized the efforts of a number of No Boundaries member states.
To coordinate with the FHWA's Every Day Counts round 7 (EDC-7) initiative to reduce greenhouse gases, the California Department of Transportation (Caltrans) requires metropolitan planning organizations to plan and invest in projects that make it easier and more convenient for community residents to choose public transit over driving their own cars.
Another outcome of EDC-7 was a showcase of innovations funded through the State Transportation Innovation Councils (STIC) program. Featured No Boundaries member state innovations include Caltrans' BIM Execution Plan, which coordinates information related to the agency's structures and data management, and a signals and lighting training facility created by the Missouri Department of Transportation to provide a safe environment for workers to gain hands-on education.
Image source: FHWA