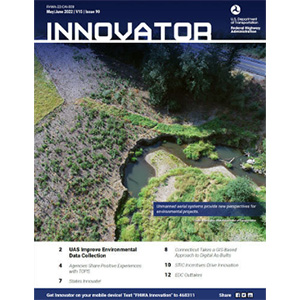 Several No Boundaries member states received recognition in the May/June 2022 issue of Innovator, the Federal Highway Administration's bimonthly newsletter.
Connecticut DOT was noted for its work with digital as-builts. By cataloging all of its infrastructure assets into a geographic information systems database, the agency is providing real-time data to help maintenance crews make better-informed decisions when it comes time to repair or replacement.
Texas DOT's success with crack attenuating mixtures was also highlighted. This type of pavement overlay has been shown to slow the rate of reflective cracking by as much as 50 percent.
Finally, Wisconsin and Virginia were applauded for their use of State Transportation Innovation Council (STIC) funds. In Virginia, these funds have been used to install fencing along highways to reduce collisions between vehicles and wildlife, while the Wisconsin DOT was able to develop and implement its Standard Bridge Design Tool using STIC funding.
Sign up to get the next issue of Innovator delivered to your inbox.
Image source: FHWA