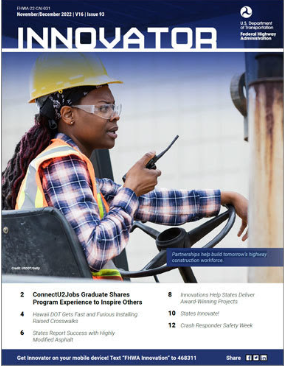 Several No Boundaries member states are featured in the November/December 2022 issue of Innovator, the bimonthly newsletter of the Federal Highway Administration (FHWA).
Texas DOT has partnered with higher education and industry groups to create the ConnectU2Jobs program, a workforce development initiative that provides young adults with the skills and training necessary for careers in the highway construction industry.
Virginia DOT recently completed a multi-year evaluation of pavements treated with high polymer-modified asphalt overlays, finding these tended to outperform traditional overlays.
Four No Boundaries member states were honored with America's Transportation Awards for 2022. North Dakota DOT has developed an innovative approach for turning an existing intersection into a roundabout, increasing traveler safety while also saving time and money over a full reconstruction. New York State DOT and Louisiana DOTD each improved safety in their states by implementing road diets and installing roundabouts in place of crash-prone intersections. And a new online tool developed by California Department of Transportation aims to increase public engagement by allowing users to explore and interact with 3D models of current and upcoming transportation projects.
Finally, a review of state innovations featured Maine's bridge project bundling strategies to replace eight aging structures, and Michigan's use of accelerated bridge construction methods to install the state's first network tied-arch bridge.
Sign up to get the next issue of Innovator delivered to your inbox.
Image source: FHWA