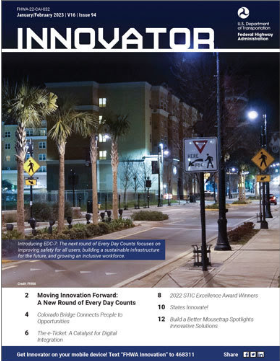 The January/February 2023 issue of Innovator, the bimonthly newsletter of the Federal Highway Administration (FHWA), highlights the efforts of a number of No Boundaries member states.
Colorado DOT is featured for its commitment to restoring access and reconnection between communities in the Denver area as part of its Central 70 Project – the site of a No Boundaries technical visit in 2021. After more than 300 meetings with stakeholders and members of the public, the agency removed physical barriers and added sidewalks, lighting and other amenities to improve safety and mobility.
State Transportation Innovation Councils (STIC) in Ohio and Idaho were both awarded STIC Excellence Awards in 2022. The Ohio STIC was honored for expanding its membership to include organizations devoted to rural transportation planning and higher education, while Idaho's STIC was recognized for strategically expanding its career training program.
In other innovation news, the California Department of Transportation's 2022 Innovation Expo showcased new technologies and improvements related to operations, safety and public engagement efforts. Virginia DOT is leveraging value capture strategies to secure private funding for a major transportation project, and Ohio DOT is promoting the advantages of restricted crossing U-turns – an alternative roadway design that significantly reduces the likelihood of serious crashes.
Sign up to get the next issue of Innovator delivered to your inbox.
Image source: FHWA