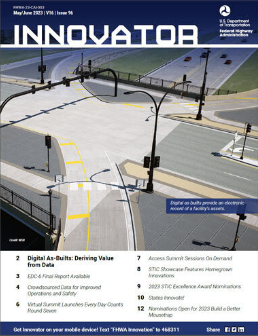 Several No Boundaries member states are featured in the May/June 2023 issue of Innovator, the bimonthly newsletter of the Federal Highway Administration (FHWA).
Colorado, Missouri and Indiana DOTs are featured for their use of crowdsourced data to improve transportation system operations. In Colorado and Indiana, vehicle probe data can be used to automatically post and update travel times on dynamic message signs to give travelers real-time traffic and safety information. Missouri DOT uses reports from a free public app to identify potholes quickly and efficiently.
Homegrown innovations from Maine, Mississippi and Utah DOTs – included as part of the virtual STIC Showcase in February – are also highlighted in the issue. Maine DOT's telescoping pole with a phone attachment allows bridge inspectors to conduct visual inspections without the need for heavy equipment and traffic control. In Mississippi, new smartphone apps help the agency to more easily manage the extensive data required to comply with the state's stormwater inspection program. And Utah DOT's saddle lift tool allows maintenance crews to repair barrier-mounted signs without the need for a crane and lane closures.
Finally, a roundup of state innovations include digital-as-builts that help the California Department of Transportation with asset management, a new planning and environmental linkages study that helps Connecticut DOT improve operational decision-making and reduce congestion, and drones equipped with LiDAR that allow Mississippi DOT to conduct land surveys more quickly and safely than with traditional methods.
Sign up to get the next issue of Innovator delivered to your inbox.
Image source: FHWA