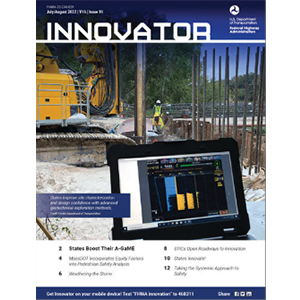 The July/August 2022 issue of Innovator, the Federal Highway Administration's bimonthly newsletter, features innovations from a number of No Boundaries member states.
The Michigan Department of Transportation was recognized for its adoption of advanced geotechnical methods in exploration (A-GaME) techniques, including cone penetration testing, which can be used to reveal potential subsurface issues.
To help other states understand how hurricanes can impact transportation infrastructure, the Louisiana Department of Transportation and Development described its work to prepare for and recover after Hurricane Ida made landfall in the state last year. The presentation was given as part of Road Weather Spotlight, the Federal Highway Administration's monthly webinar series addressing the transportation-related challenges and solutions that road weather events can present.
Missouri was applauded for using State Transportation Innovation Council (STIC) funds to enhance how its department of transportation uses work zone, incident and vehicle data for traffic incident management.
Finally, Colorado's work to improve safety for all road users by sharing crowdsourced data with commercial vehicles, and Idaho's use of virtual strategies to increase public involvement in project decision-making, were both highlighted as exciting and innovative solutions.
Sign up to get the next issue of Innovator delivered to your inbox.
Image source: FHWA