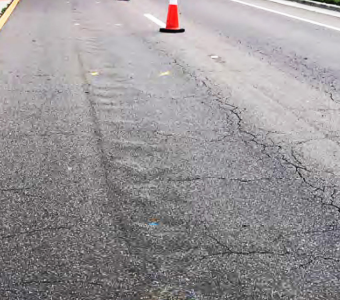 Blisters, or bulges of an asphalt pavement's surface, sometimes occur when moisture becomes trapped between layers of asphalt. However, a variety of environmental, material and other factors contribute to whether blisters appear and how severely they form, making them a challenge to predict and study.
To better understand why blisters occur and how they affect the pavement's service life and ongoing maintenance needs, the Florida Department of Transportation compared five segments of the same road project with and without blisters. The research resulted in recommended paving strategies to keep these distresses from forming, as well as guidance for repairing blistered pavements.
Read the research summary: Evaluation of Roadway Worms/Distortions, February 2022.
Image source: Florida Department of Transportation