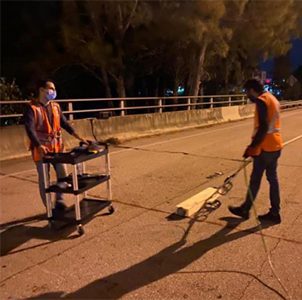 Inspectors charged with assessing the condition and maintenance needs of steel cables embedded in concrete bridges may employ the magnetic flux leakage (MFL) test, using strong magnets to detect corrosion in areas they can't see directly. However, other metal components of the bridge can interfere with the test and affect the readings.
To improve the test and increase the accuracy of the MFL test results, Florida DOT partnered with university researchers to identify advancements in this testing method.
With the ability to detect issues early and more accurately, the agency will be better able to prioritize maintenance activities that will extend the performance of bridges across the state.
Read the research summary: Magnetic Flux Leakage (MFL) Method for Damage Detection in Internal Post-Tensioning Tendons, May 2022.
Image source: Florida DOT