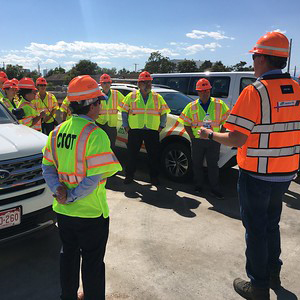 No Boundaries held its second peer exchange of 2021 from September 14-15 with an in-person meeting in Denver that included a simultaneous virtual option for remote participants.
Over two days, No Boundaries pooled fund members, their agency colleagues and guests discussed the timely issues in the field of transportation maintenance. Highlights include informative discussions about issues involved with charging electric vehicles, the use of drones in maintenance activities and federal activities related No Boundaries' efforts.
Our Innovation Show-and-Tell, which is always one of our most popular sessions, showcased a variety of new tools and practices to make work easier and safer in the field. We capped it all off with a technical tour of the Central 70 Project to view the progress made on the reconstruction and expansion of Interstate-70 and understand the challenges of this major effort.
Additional information and the full agenda are available on our event page. No Boundaries members have full access to all of the meeting materials and presentations on this page.
Stay tuned for our next peer exchange event, coming in 2022. We'll provide details as soon as they become available.
Image source: No Boundaries