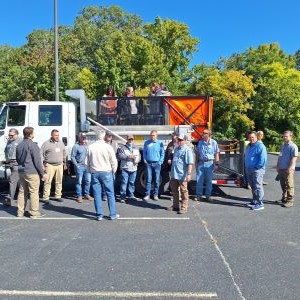 No Boundaries members convened in Suffolk, Virginia last week from October 17-19 for the group's fall peer exchange. Hosted by Virginia DOT, members shared their latest innovations and best practices and participated in demonstrations of tools and equipment designed to get maintenance work done faster, better and cheaper.
The peer exchange also featured roundtable discussions on shared maintenance interests such as strategies for fixing potholes during winter and how agencies determine whether their maintenance crews are appropriately staffed.
Guest presenters provided insight into Virginia's transportation challenges and opportunities, including efforts to increase the safety and efficiency of the state's tunnel system and a complex underwater expansion project that will reduce congestion on the Hampton Roads Bridge Tunnel and provide greater mobility for millions of users. No Boundaries members also learned about the exciting ways Virginia DOT encourages innovation, such as a number that state workers can call to share their ideas and a website that the public can use to submit suggestions.
During one of No Boundaries' most consistently popular sessions, the Innovation Show-and-Tell, members shared the new tools and practices they've tried and tested to make maintenance work easier and safer in the field. Finally, a representative from Aquaphalt demonstrated how the product can be used to repair potholes quickly in any season.
Additional information, photos and the full agenda are available on the meeting page. Details about No Boundaries' next peer exchange, to be hosted by Louisiana DOTD in spring 2024, will be coming soon!
Image source: No Boundaries