Traffic Paint Reflectivity Program
Innovation
Iowa DOT measured reflectivity on Interstate and higher volume 4-lane routes, recording average reflectivity on each tenth-mile section. They used the spring readings to prioritize their paint program and the fall readings as an annual performance measure. Data collection methods included the LTL-X Handheld Reflectometer, which included GPS capability and less than 1-Second per measurement reading time, as well as the ability to average multiple readings. Additionally, they used a Laserlux® CEN 30 Mobile Reflectometer, which enabled them to safely collect continuous data at highway speeds.
IDOT measured the same locations each spring and fall, averaging 12 readings for each line measured at 13 base locations on primary 2-lane routes. The measurements were taken at approximately 5-mile intervals. The spring readings were used to determine the paint loss during winter operations and to prioritize their annual paint program. The fall readings were used as a baseline for the annual spring readings, as well as an annual performance measure for paint reflectivity. The study concluded that for white edge lines and yellow center lines, crash occurrence probability was found to increase by decreasing values of longitudinal pavement marking retroreflectivity, that is to say as the retroreflectivity decreased, the probability for crashes increased.
Benefit and Implementation
Uses data collection and performance measures to determine appropriate paint treatment for a given location. Data is used to determine high-risk locations and to justify more expensive, more durable paint treatments on those routes. The Pavement Marking Management Tool, developed by INTRANS, Iowa State University, has the ability to graph data from biannual readings, display site specific data from biannual readings, and count and display site specific color coded reflectivity levels.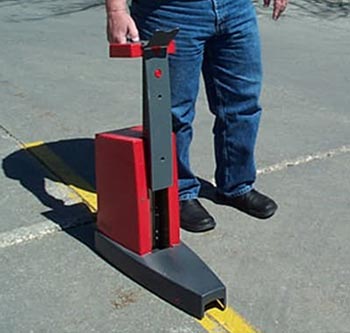 Iowa DOT
Published: 10/17/2013