Concrete Deck Repair Trailer
Innovation
The Concrete Deck Repair Trailer is used to perform onsite bridge deck repairs.
Crew identified a way to improve efficiency by designing and building a self-contained trailer for bridge deck repairs.
- Surplus 25-foot tandem axle trailer
- 20-foot container
- Two roll-up doors (side and back)
- Bolt-down gas powered 9 CF cement mixer (on back deck)
- 300 gallon water tank with 12 volt water pump, pressure washer, air compressor, and generator
- Bulk sand and rock bins (to lower cost)
- Around $15K to construct and outfit trailer
Benefit and Implementation
The Concrete Deck Repair Trailer lowers the cost of deck patching operation, resulting in more bridge deck repairs annually. The Trailer has also reduced under-utilization of equipment, because crews have what they need to perform the deck repairs on-site quickly and efficiently without having to call for backup. Additional benefits include worker safety as setup of the trailer reduces lifting and carrying of heavy materials.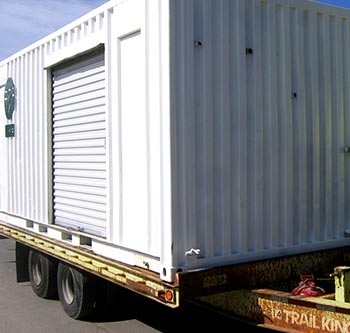 Washington State DOT
Published: 10/17/2013