Jarraff All Terrain Rotary Tree Trimmer
Innovation
In 2011, the Ohio Department of Transportation began a grass roots effort to try new equipment funded by central funding without impacting the district budget. The goal was to ensure new ideas spread throughout state. This includes a formal but streamlined evaluation process to select and fund a researcher in order to quickly move ideas to implementation. The resulting publication is written in language common to the transportation community.
The initial idea of evaluating the Jarraff Tree Trimmer was proposed by the ODOT D-5 office (East Central Ohio) and during the course of discussion, D-10 (Southeast Ohio) expressed interest in piloting the tree trimmer as part of the new equipment internal review and evaluation effort.
Currently, a worker typically accomplishes tree trimming with a chainsaw operating in a bucket truck. This requires time for setup of the bucket truck every time it needs moved, as well as separate crews to run traffic control when a lane is shut down. It also involves several safety issues due to the worker being off the ground while operating a chainsaw. Due primarily to its size, the Jarraff requires a two-lane roadway to be closed. However, having the roadway closed enables the operator to cut both sides of the roadway at the same time and allows the debris to fall directly on the roadway surface. No setup time is required to move the equipment, which also increases productivity. The operator can move the equipment and operate the saw without getting out of the cab. In fact, productivity is so high that the cutting capacity of the equipment exceeds the chipping crew's ability to dispose of the trimming debris. Safety issues are resolved since operator is in an enclosed cab and distanced from the cutting blades and falling debris. Finally, employee buy-in is high since workers enjoy operating the equipment for a work activity that is normally disliked. The tree trimmer has been in use since 2011.
Benefit and Implementation
- The telescopic boom extends up to 75 feet with a 90-degree range of motion, providing unmatched cutting height. The non-conductive, high tensile fiberglass construction provides shock resistance and strength while limb deflectors protect the operator from sliding branches.
- 24-inch blade with carbide tips operates at 3,200 rpm. Two specifically designed blades come with each Jarraff.
-Large rollers and an abrasion-resistant hose covering help reduce wear and extend hose life.
- Hydraulically powered turntable provides 360° range of motion and 40° lateral tilt.
- Convenient 20,000 pound pull winch is standard on every model. (includes a 150', 5/8" cable)
- Hydraulically powered push blade keeps the Jarraff's path free of obstruction.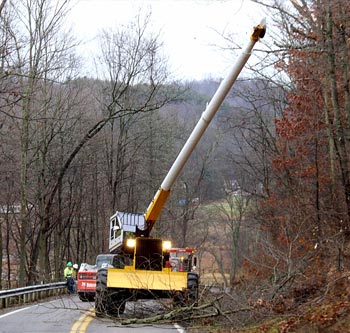 Ohio DOT
Links
Published: 10/18/2013