Tandem Axle Dump Trucks
Innovation
PennDOT modified a tandem axle dump truck to provide a safer more useable design. Improvements include a fixed cab shield which protects against material spillage and gives an improved mounting location for AVL antenna. Additional improvements also include a larger pre-wet tank, a combo tank for limited space, Whelen light package, a new inverted "V" pattern for truck visibility, a standardized pre-wet distribution line, Freedom ACS control System, and a completely sealed rear light module.
- Trucks: 12.4 L engine; 430 hp, 1550 ft-lbs torque; J & J dump body and International Trucks chassis
- 62,000 lb gross vehicle weight rating
- 13.5' x 96" for tandem axle body dimension
- 270 days complete build time
Benefit and Implementation
Truck improvements give a safer, more usable design. The cab shield improves safety for the operator and the equipment. Improved lights, front and rear, are safer and more durable; vibrant paint increases truck visibility. A factory chassis powers rear light module and allows for easy diagnostics and schematic reference. An upgraded 25-ton pintle is recessed, raised for specialized operations, and is removable. A pre-wet distribution line will be uniform across all units thereby requiring less up-fit time for field implementation.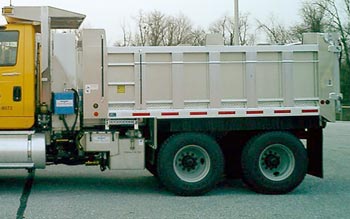 Pennsylvania DOT
Published: 10/18/2013