ACS Herbicide Sprayer
Innovation
The Advanced Control System (ACS) installed on the MoDOT trucks gives us the flexibility of using this system for herbicide applications. The ACS can be set up to run in two different ways – either manual or automatic on the anti-icing side of the system. The automatic setup is the preferred method because it allows for precision in application. The spray nozzle is mounted on the front of the truck, 4 feet (48") off the ground and preferable attached to an actuator allowing up and down applications. Every mile sprayed with the 260-11 nozzle at 30 psi going 10 mph treats approximately 1.33 acres.
- Approximately 25 feet of ¾ diameter agricultural spray hose, enough to reach from the outlet on the back left corner of the truck to the front right corner.
- One ¾" female cam lock to match the ACS outlet and attach to the ¾ hose.
- One ¾" threaded plastic with knuckled stem to go into the hose.
- One ¾" threaded spring check valve followed by ¾" bushing to connect to ¾" tee with ¼" outlet for the pressure valve.
- Boombuster nozzle – Model 265 or 260-11. (Other nozzles can probably be used but the GPM of the nozzle is critical and dependant on the pump size of the ACS)
- Pressure gauge to register and easily read the 30 -50 psi.
Benefit and Implementation
The ACS Herbicide Sprayer is a low-cost alternative to the high-cost injection sprayers currently used. The large tank results in less downtime loading and mixing. The system requires fewer repairs than the older model pumps and stores application information in the onboard computer. In addition, employees familiar with the ACS system require little training.
1. Able to use the ACS for winter snow and ice removal, as well as herbicide spraying operations.
2. Components of the ACS system provide needed sprayer requirements with minor adjustments needed.
3. On any spray application, the speed and pressure are critical for proper calibration; both can be achieved through cruise control on the trucks and control settings within the ACS.
4. Ability to use large tanks in tandems reduces the time needed for spray operations plus the multi-use of tanks assures the cleaning of tanks is done routinely.
5. Year round use of the ACS reduces maintenance to the existing pump equipment by providing routine operations to the system.
6. Addition of a small tank of clean water allows the operator to clean the lines in the system in less than one minute.
7. Year round use promotes familiarity with the system reducing the need for reoccurring training.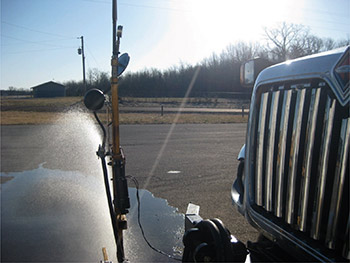 Missouri DOT
Published: 5/28/2014