Maintenance Leadership Academy
Innovation
Maintenance Leadership Academy (MLA) is a training class that is designed to develop leadership skills among supervisory classifications of the Division of Maintenance in Caltrans. MLA was developed through a collaborative effort between Caltrans Division of Maintenance and the College of Continuing Education (CCE) at Sacramento State University. MLA examines the essential elements of the Division of Maintenance business plan, and how the actions of all field employees affect the success of Caltrans Departmental mission.
MLA is designed to prepare Caltrans leaders for the challenges of today. The program draws on the experience of Caltrans subject matter experts and renowned scholars provided by the California State University, Sacramento – College of Continuing Education (CCE). MLA includes the sharing of ideas among participants, communicating using common language and supporting the process of improving mobility across California. Through the development of key leadership skills and the integration of theory and practice, this training class equips leaders to address the critical issues impacting their organization and the state of California.
MLA is a five-day interactive training class, focusing on the following key leadership practices:
- Model the way
- Inspire a shared vision
- Challenge the process
- Enable others to act
- Encourage the heart
A number of topics are covered during the sessions including, leadership, strategic planning, budgets, field safety, asset management, equipment, legal, communication, team building and collaboration, and action plan.
Benefit and Implementation
- Improve operational alignment with Caltrans Strategic Plan.
- Understand how priorities are set for the Division of Maintenance.
- Gain tools and resources to help balance the division's priorities with daily work.
- Foster cross-organizational networking.
- Develop and improve leadership skills.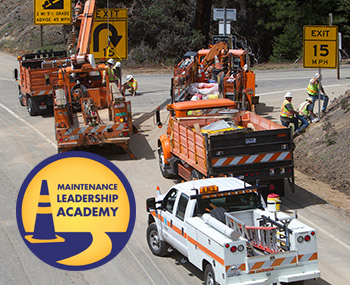 California Department of Transportation
Published: 5/28/2014