Spray Cleaning Rig
Maintenance operations
Pavements
Innovation
For years, Kenton County relied on an old, overused fire truck from its Emergency Management department to clean surfaces and structures in a local park located on a flood plain. The truck leaked badly and was very inefficient, so county employees created a high-pressure spray bar that can be mounted for use on multiple types of trucks. They also found a way to rinse areas that are inaccessible by service vehicles.
Benefit and Implementation
Using a trash pump, 500-gallon brine tank, and fire hose that were owned, donated, or purchased for less than $700, the team was able to reduce water consumption and improve labor utilization. When full, the tank can now spray continuously for 26 minutes; the old truck's larger 750-gallon tank would be empty after less than five minutes. In addition, the spray bar on the front of the truck—when coupled with the fire hose pumping directly out of the tank—can be used on roadways after construction, for storm cleanup, in preparation for paving projects, and for general cleaning before local events.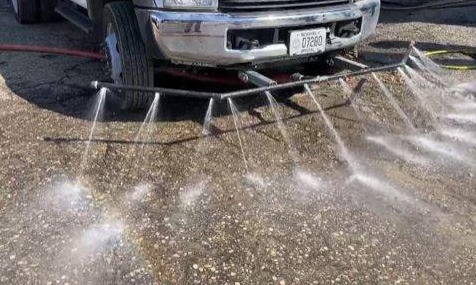 Other
Links
Published: 4/29/2022