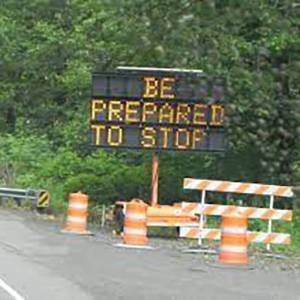 Work zones for highway maintenance, repairs or construction can become unsafe when drivers fail to slow down.
Dynamic messaging signs are often used to alert drivers to the presence of work zones and foster slower traffic speeds, but whether the signs actually accomplish their intended goals has not been well understood.
In an attempt to verify the effectiveness of the signs, Kansas DOT collected and analyzed vehicle speeds and related data at three work zone sites. The study identified areas of improvement for future research to yield more conclusive findings.
Read the technical summary: Analysis of Speed Profiles and Evaluation of Dynamic Signs in Kansas Work Zones, March 2021.
Image source: Oregon DOT