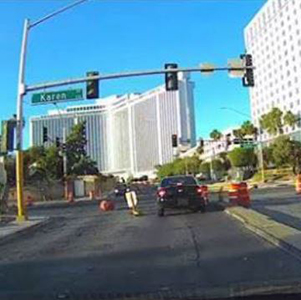 Detecting road damage quickly is key to identifying top needs and allocating appropriate funding. However, manual pavement inspections can be time consuming and still yield incomplete results.
Research by the Safe-D University Transportation Center explored the feasibility of applying advanced computing techniques to more than 6,000 images taken by cameras mounted to vehicle dashboards, or dashcams, to recognize pavement distresses. By comparing the results with data collected manually at the same locations, researchers learned which types of distresses can be found reliably from dashcams, as well as possible avenues to improve accuracy.
Read the research brief: Detecting Pavement Distresses Using Crowdsourced Dashcam Camera Images, May 2021.
Image source: U.S. DOT