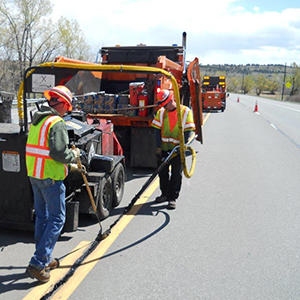 Share ideas and learn from other agency members at No Boundaries' first virtual peer exchange of 2021!
Offering two-hour sessions over two days, the event provides opportunities for discussion and discovery on a variety of timely issues in the field of transportation maintenance.
Thursday, February 18 – Join us for a look at Front Range Community College's Highway Maintenance Degree Program, a first-of-its-kind, two-year degree program in Colorado. This will include a Q&A session with a few of the program's graduates. The first day will continue with an interactive roundtable discussion of innovations that No Boundaries members are using to deliver maintenance services during COVID-19.
Tuesday, March 2 – We will reconvene for our always-popular Innovation Show-and-Tell session, followed by a quick-fire discussion on automated mowing. Finally, we'll learn the results of a few recent informal surveys conducted by No Boundaries members that others can apply to their work in their home states.
Members can participate in all or part of the event, and are encouraged to invite their agency colleagues to attend as well!
Click here to view the full agenda, and please contact Brian Hirt at brian.hirt@ctcandassociates.com if you require a meeting invitation.
Image source: Colorado Department of Transportation.