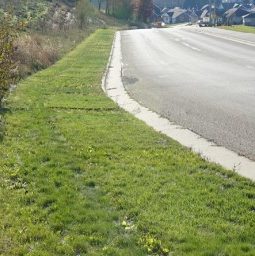 In addition to making roadsides more attractive, turfgrass can help control erosion, provide road base stability, reduce stormwater runoff and improve water quality.
But not all grass varieties perform equally, roadside conditions may change over time and vendors sometimes introduce new selections. To ensure its list of approved seed varieties is consistently up to date with high-performing options, the Minnesota Department of Transportation (MnDOT) initiated a research project to evaluate seed varieties and improve the agency's processes for adding and removing options from the list in the future.
The results will help MnDOT's maintenance workers keep roadsides healthy through droughts, harsh winter conditions and deicing treatments with less mowing and re-seeding.
Read the two-page technical summary: Evaluating MnDOT's Turfgrass Seed Variety List and Approval Process, June 2023.
Image source: Minnesota Department of Transportation