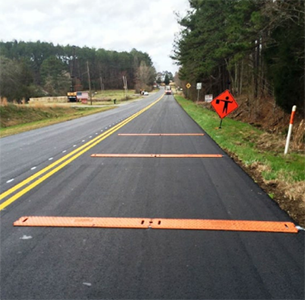 For crews performing road maintenance and repair activities, fast-moving traffic can pose a serious hazard.
Temporary rumble strips offer a flexible solution for slowing vehicles near work zones. To understand how well the devices improve driver behavior, the Missouri DOT evaluated different configurations of short- and long-term varieties and surveyed other state DOTs about their experiences.
The study found temporary rumble strips to be generally effective and revealed a variety of best practices to maximize their influence and durability.
Read the report: Effectiveness of Temporary Rumble Strips in Work Zones, February 2022.
Image source: Georgia DOT