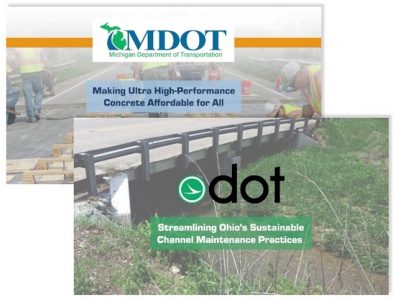 To help Midwestern state departments of transportation (DOTs) understand how and where to share their research results for maximum effect, the National Cooperative Highway Research Program (NCHRP) launched Project 20-44(28), which identified several high-impact research projects and innovative strategies to disseminate the research and findings.
The project produced four short videos highlighting recently completed state DOT research with high potential for implementation across the region:
These videos, each running 3 to 5 minutes, feature interviews with investigators and state DOT staff and highlight how the research results will improve DOT operations and improve the transportation system for all users.
Two of these projects will also be featured in upcoming webinars that will allow stakeholders to learn about research findings and technology transfer channels in greater depth.
Michigan DOT's UHPC project will be featured on March 27, 2023, from 11:30 a.m. – 1:00 p.m. Eastern.
Ohio's sustainable channel maintenance practices project will be featured on March 29, 2023, from 1:00 p.m. – 2:30 p.m. Eastern.
To attend either of these webinars, please email Chris Kline at chris.kline@ctcandassociates.com for a Zoom link.