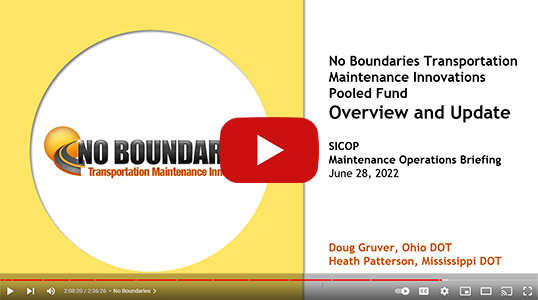 Last week, AASHTO's Snow and Ice Pooled Fund Cooperative Program (SICOP) and Maintenance Operations Technical Working Group held a virtual showcase to spotlight various organizations dedicated to all aspects of winter and year-round maintenance. Fifteen groups in all shared highlights of their activities over the past year during this session.
On behalf of No Boundaries, representatives Doug Gruver of Ohio DOT and Heath Patterson of Mississippi DOT provided an overview of No Boundaries' recent accomplishments and resources, including its innovation database, a nearly-completed synthesis investigating staffing shortages and new federal CDL requirements, and the group's recent peer exchange and technical sessions in Sacramento.
View No Boundaries' presentation, which begins at 2:07:43. The complete slide deck shown during the virtual meeting is also available.
Image source: No Boundaries