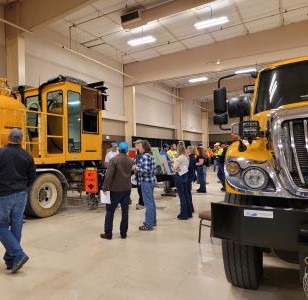 No Boundaries members gathered in Missouri on April 25 and 26 for the first peer exchange of the year. Hosted by the Missouri DOT, a visit to the agency's annual Innovations Showcase allowed No Boundaries members to see demonstrations of innovative tools, materials and processes, and learn best practices for implementing similar programs in their home states.
The peer exchange also featured roundtable discussions on hot-button transportation maintenance topics such as strategies to recruit and retain workers and practices for safely deploying cones or barrels on state highways.
Featured presentations from Front Range Community College in Colorado highlighted opportunities for workers to gain course credits on the job, while Ohio DOT shared details on its One Red Lion program that has already exceeded its goal of saving $100 million in operational savings and efficiencies. Finally, representatives from the National Local & Tribal Technical Assistance Program discussed ways No Boundaries member states can share innovative solutions with agencies at the local level.
The Innovation Show-and-Tell, which is consistently one of No Boundaries' most popular sessions, showcased members' new tools and practices for making maintenance work easier and safer in the field.
Additional information, photos and the full agenda are available on the meeting page. Details about No Boundaries' next peer exchange, to be hosted in the fall of 2023 by New York State DOT, will be coming soon!
Image source: No Boundaries