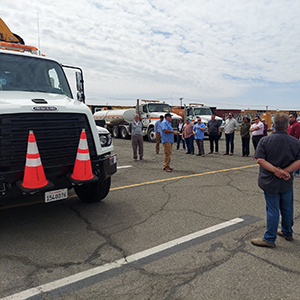 No Boundaries held its first peer exchange of 2022 from May 3-5 with an in-person meeting in Sacramento. Highlights of the event include roundtable discussions on hot-topic issues: guardrail repair and replacement procedures, the effects of the new federal rules related to commercial driver's licenses, and states' approaches to managing materials supply shortages.
Featured presentations showcased other leading efforts and creative solutions, such as Front Range College's new program designed to create pathways for high schoolers into maintenance careers and Caltrans' efforts to lower carbon emissions with Zero Emission Vehicles.
During the Innovation Show-and-Tell, consistently one of the most popular sessions, No Boundaries members shared the new tools and practices they've developed and adopted to make maintenance work easier and safer in the field. In addition, two technical site visits — to Caltrans' HQ equipment shop and maintenance training academy backlot – provided behind-the-scenes insights and hands-on demonstrations to round out the event.
Additional information and the full agenda are available on the meeting page. Stay tuned for details about No Boundaries' future peer exchange events in the fall of 2022 and spring of 2023!
Image source: No Boundaries