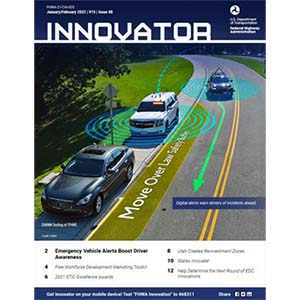 The January/February 2022 issue of Innovator, the Federal Highway Administration's bimonthly newsletter, features the success stories of several No Boundaries member states.
Michigan's State Transportation Innovation Council (STIC) was one of two to recently win a 2021 STIC Excellence Award for its "strong leadership, involvement by diverse groups, innovation in performance tracking, and promotion of innovation implementation." Among Michigan's many exciting initiatives is the MDOT Innovations dashboard. This public-facing tool shares details about new materials, methods and technologies being explored within the agency and features an interactive map showing where the innovations have been deployed across the state.
In addition, Texas, California and Colorado were each recognized for their highway construction workforce partnerships. These joint collaborations, which can include stakeholders from state and local agencies and private industries, aim to tackle the workforce shortage in new and innovative ways.
Sign up to get the next issue of Innovator delivered to your inbox.
Image source: FHWA