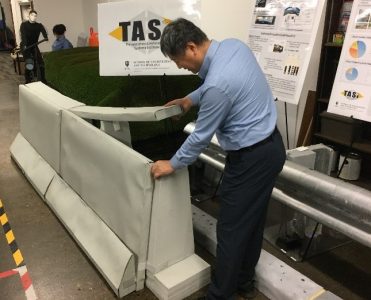 On October 18 and 19, No Boundaries members met in Indianapolis for the group's second peer exchange of the year. Hosted by Indiana DOT, the event included roundtable discussions on hot-button transportation maintenance topics such as cost and supply-chain issues and successful strategies to prompt implementation of maintenance innovations.
Featured presentations from the Indiana Local Technical Assistance Program and Indiana University's Transportation and Autonomous Systems Institute (TASI) highlighted how the state's partners are seeking to advance and implement creative transportation solutions, while Illinois DOT shared the importance of pollinators and how the agency is maintaining its roadsides with these delicate habitats in mind.
The Innovation Show-and-Tell, which is consistently one of No Boundaries' most popular sessions, showcased members' new tools and practices for making maintenance work easier and safer in the field. A technical site visit to the Indiana University campus allowed members to see the research being conducted at TASI's state-of-the-art facilities to help make roads safer for all users.
Additional information, photos and the full agenda are available on the meeting page. Details about No Boundaries' next peer exchange, to be hosted in spring of 2023 by Missouri DOT, will be coming soon!
Image source: No Boundaries