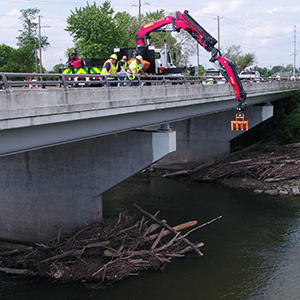 As part of its ongoing research to improve bridge and channel maintenance practices, the Ohio Department of Transportation (ODOT) teamed with the Ohio State University (OSU) to develop the knuckleboom crane, an innovative tool that allows maintenance crews to safely and efficiently remove the debris that accumulates around bridge piers in larger rivers.
To help other agencies understand the background, benefits and challenges behind the research, representatives from ODOT and researchers from OSU will discuss the project and answer attendees' questions during a one-hour virtual presentation on November 30, beginning at 1:00 p.m. Eastern.
Mark your calendar now to attend this special event.
Image courtesy Ohio Department of Transportation