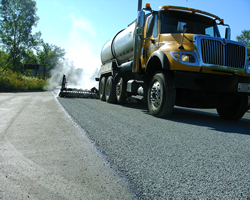 In an effort to ensure long-lasting chip seals, Oregon DOT has developed quantifiable standards that can be used to objectively measure a chip seal's performance over time.
With input from maintenance workers, designers, suppliers, consultants and other industry stakeholders, Oregon DOT's proposed performance specification for chip seals aims to encourage quality workmanship and innovation. The proposed specification also includes a one-year maintenance provision.
Read the report: Implementation Phase of SPR 777 Study and Guidance for a Chip Seal Performance Specification, April 2021.
Image source: Minnesota DOT