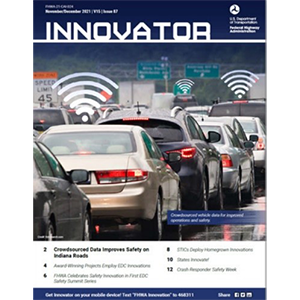 In the November/December issue of Innovator, the Federal Highway Administration's bimonthly newsletter, several No Boundaries member states and their maintenance innovations take center stage.
Among other members featured, the issue called out South Carolina's predictive analysis methods, a multipart safety summit featuring success stories from California, Minnesota, Missouri and Indiana, and a host of innovative maintenance solutions from agencies across the nation.
Sign up to get the next issue of Innovator delivered to your inbox.
Image source: FHWA