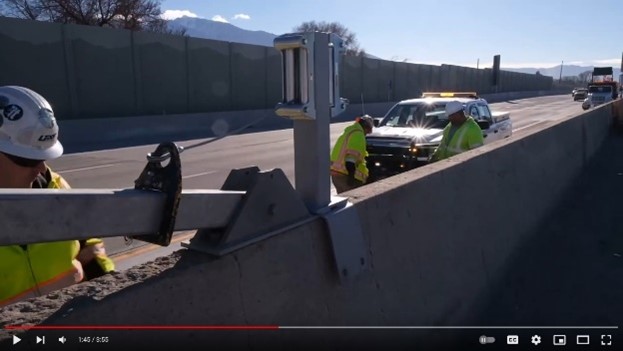 Maintenance crews with the Utah Department of Transportation needed a better way to repair damaged signs mounted on the median barrier of multi-lane highways. To reach the signs and supply the necessary leverage, workers often needed to use a crane and close a lane of traffic – a time-consuming, costly and potentially hazardous routine task.
The saddle lift makes the entire job easier, safer and less disruptive to traffic. Developed at a UDOT maintenance facility, the tool can be transported by a light-duty vehicle and temporarily affixed alongside the damaged sign. Using cables to connect the sign's post to the winch on the maintenance vehicle, crews can hoist the sign upright from the service lane, without the need for heavy equipment or lane closures.
Watch UDOT's "Innovation Station" video featuring the saddle lift.
Image source: Utah Department of Transportation