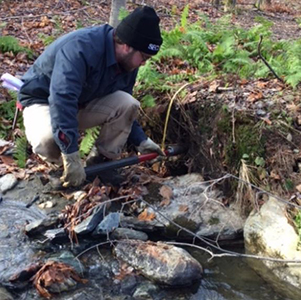 Unpaved roads are prone to stormwater runoff and erosion, which can have a variety of negative impacts on the quality of downstream waters.
Building upon its previous research identifying effective erosion-mitigation practices, Vermont Agency of Transportation documented erosion rates and soil-contamination at drainage sites and culvert outlets to estimate which practices have proven most successful.
Read the report: Quantifying Gully Erosion and Potential for Sediment and Phosphorous Pollution Reductions Achieved by Erosion Remediation Projects on Vermont's Roads, July 2021.
Image source: Vermont Agency of Transportation