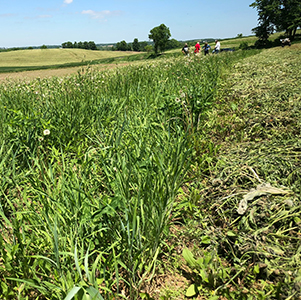 Planting prairie strips, or native perennials, along a field's borders is an age-old strategy used by farmers to naturally reduce erosion. When planted along roadways, prairie strips may provide similar environmental benefits by increasing the stability of the soil, reducing runoff and pollution, and establishing habitats for pollinators.
A new three-part webinar series will explore what it takes to establish and maintain prairie strips to maximize their potential, including how to properly prepare a site, seed prairie strips and manage the plants over time.
The entire series is free to attend, with sessions on different aspects of prairie strips to be held on February 8, 15 and 22 from 8 a.m. – 9 a.m. Central. The webinar is presented by Sand County Foundation, a nonprofit private land conservation organization.
Image source: Sand County Foundation