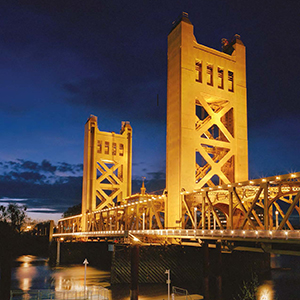 No Boundaries members are convening next week for the first peer exchange in 2022 in beautiful Sacramento, California.
With a packed schedule of presentations, discussions and on-site demonstrations, this three-day event hosted by the California Department of Transportation (Caltrans) has been designed to offer informative programming for transportation maintenance professionals and their agency colleagues attending virtually or in person.
All staff from No Boundaries member states are invited to participate remotely in any part of the event. Contact Brian Hirt if you would like a Zoom meeting invitation.
Highlights from the full agenda follow.
Tuesday, May 3 – Our first day will feature guest speakers' discussions on a range of topics including maintenance education geared for high schoolers, impacts of the federal government's new rules regarding commercial driver's licenses, and innovative maintenance solutions. Caltrans' guest presenters will also give updates on the agency's research program, zero emissions vehicles program, and drone program.
Wednesday, May 4 – Attendees in Sacramento will take part in a technical site visit and practitioner Q-and-A at Caltrans' main equipment shop in the morning, followed by a No Boundaries business and planning meeting in the afternoon.
Thursday, May 5 – On the final day of the event, in-person attendees will head to the backlot of Caltrans' maintenance training academy for behind-the-scenes views and hands-on demonstrations. Later, all attendees are invited to participate in a roundtable discussion on materials supply shortages. Presentations will be given by representatives from the American Public Works Association and the Federal Highway Administration to round out day three.
Image source: Caltrans